The members of the House of Representatives who are former barangay chairmen are Antonio Diaz (Second District, Zambales), Marina Clarete (First District, Misamis Occidental), Edelmiro Amante Sr. (Second District, Agusan del Norte), Eufrocino Codilla Sr. (Fourth District, Leyte) and Florencio Vargas (Second District, Cagayan).
National and local politicians have turned barangays, the lowest rung of political power in the Philippines, into levers of clout and control – but also vassals of political largesse – for political and electoral campaigns.
In 2006, the Arroyo administration hitched its campaign for Charter change on "barangay consultations." Whether the forums were staged or genuine community initiatives at political discourse, one thing was clear: money flowed in generous amounts to the barangays for these "consultations."
It was the Marcos administration, however, that first unleashed the latent powers of the barangays in the '70s. Marcos used the barangay councils, and their junior clone, the Kabataang Barangay, to legitimize martial law, and project a veneer of popular support for his regime. Too, Marcos started a tradition of spreading a bounty of political favors to barangay village chiefs, from sacks of rice to piles of cash.
In the past five years, 49 barangays have been created in Luzon and Mindanao. Almost seven out of 10 are from Mindanao. Almost half are in the province of Maguindanao alone.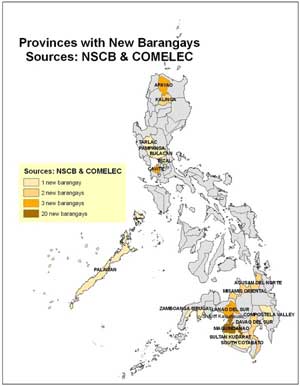 Barangay politics today offers a mirror image of the good and bad in Philippine politics. Some exemplary barangay leaders have served as a modernizing force in their communities, while others less diligent and more steeled in old-style politics, of regress and stagnation.
But the ties that bind barangays to local and national politicians have endured, and remains ever strong.
GMA News Research found in a study that most of the 29 newly-created barangays belong to provinces that have showed consistent political loyalty in the past two elections: 25 are from provinces that are administration bailiwicks and 10 from opposition bailiwicks.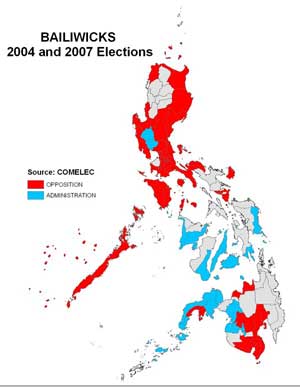 All the new barangays are within the territories of active political clans. By all accounts, the new barangays have served them two purposes: 1. as village units of their political machine; and 2. as entry point for young clan members just starting out in politics, or as alternative posting for those who have to wait out term limit bans.
Many political families have taken interest in seemingly lowly barangay posts. And why not? For certain traditional politicians, the barangay proved to be a good ground to launch political careers.
A study of GMA News Research showed that at least 12 incumbent local officials who are also members of political families started their political careers in the barangay hall. Five of them are congressmen, one is a governor of a rich province, two vice governors and four mayors.
The members of the House of Representatives who are former barangay chairmen are Antonio Diaz (Second District, Zambales), Marina Clarete (First District, Misamis Occidental), Edelmiro Amante Sr. (Second District, Agusan del Norte), Eufrocino Codilla Sr. (Fourth District, Leyte) and Florencio Vargas (Second District, Cagayan).
Diaz, now 80 and one of the oldest congressmen right now, was barangay captain of Santa Maria, Castillejos, from, 1958 to 1961, shortly after the reign of his uncle, President Ramon Magsaysay. He became vice governor of Zambales before his election as congressman, assemblyman and congressman again.
Amante, another veteran at 74, had the most colorful political career—from being barangay captain of Ampayon, Butuan City in 1959, he went on to become a councilor, 1972 Constitutional Convention delegate, assemblyman, and congressmen. He was President Fidel Ramos's executive secretary and presidential consultant for Mindanao flagship projects. His son Erlpe John is the incumbent governor of Agusan del Norte.
Clarete made a big hop in the political ladder when she got elected as congressman from being barangay chairman in Oroquieta City in the late '90s. Still, she inherited the post from his husband Ernie, who did not seek another position. In the 14th Congress, seven congressmen from the previous Congress successfully turned over their seats to their wives, most of whom have no political background.
Both Codilla and Vargas became mayors after serving in the barangay hall. Vargas was vice governor, then governor, of Cagayan before he ran and won as congressman.
Bulacan Gov. Joselito "Jon-Jon" Mendoza was the barangay captain of Buhat, Bocaue town before he ran and won as governor in the elections last May, besting seasoned politician and former governor Roberto Pagdanganan.
But it was his political clout that made him win. His sister, then governor Josefina de la Cruz, campaigned for him even before the campaign period started. The de la Cruz-Mendoza clan officially became a political family when Jon-Jon won.
Ilocos Sur Vice Gov. Jeremias Singson, former Gov. Luis "Chavit" Singson's brother, at least took it a step at a time despite the fact that he belongs to the most powerful clan in the province.
He was barangay chairman in a village in Vigan for 13 years then became the town's vice mayor for seven years, then provincial board member for three years. He took a three-year break from politics then ran for and won as vice governor and, subsequently, provincial board member again, before reclaiming the vice governor post.
Palawan Vice Gov. David Ponce de Leon got his big break politically when he was appointed OIC vice governor of Palawan shortly after his stint at the barangay hall. He was congressman before he got elected as vice governor.
Four city and municipal mayors are also former barangay chairmen -- Michael Fariñas of Laoag City, Ilocos Norte; Cielo Krisel Lagman-Luistro of Tabaco City, Albay; George Pinzon of Luna, La Union; and Benjamin Bautista Jr. of Malita, Davao del Sur.
Fariñas, of course, has the backing of his prominent clan. Lagman-Luistro also had the same privilege: she was barangay chairman of Sogod, Bacacay in Albay in 1997 to 1998, when his father, Edcel Lagman, was serving his last term as representative of the First District of the province. Lagman-Luistro went on to become provincial board member and even replaced his father in the House from 1889 to 2004.
Bautista was appointed barangay captain in 1982 to 1985, when his father Benjamin Jr. was assemblyman representing Davao del Sur. He was vice governor, then governor before he ran and won as Malita mayor. A demotion it may seem, but members of the Bautista clan actually switch posts among themselves. Benjamin Jr.'s brother Franklin, is congressman of the Second District; another brother, Claude, lost his bid for governor. Like their father, all three siblings became mayor of Malita.
While her family is virtually controlling Davao del Sur politics, Claude's teenage daughter Claudine Diana is also doing her share, being SK Federation president in Digos City. Claudine obviously won the position with the help of the clan and is on her way to inheriting the posts her family appears to have owned.
For certain political families, the youngest members are presented the SK as launchpad for an early political career. The clout of the clan ensures the victory of their young. In some cases, the decision of the voters is no longer; the appointing power of those who rule is enough.
Lawrence Lluch Cruz, a member of the Badelles-Lluch political family of Lanao del Norte, entered politics via SK in barangay Pala-o, Iligan City. A nephew of former Rep. Alipio Badelles (First District, Lanao del Norte), Cruz then became federation chairman of the Kabataang Barangay in Iligan City and vice president of Kabataang Barangay-Philippines.
He was appointed Iligan City councilor in 1988, when his granduncle Mariano Lluch Badelles Sr. was congressman of the First District. Cruz was elected councilor in 1992.
Cruz then ran and won as Iligan City vice mayor in 2001. After serving only one term, he sought the mayoralty post and won. He is currently on his second term on the posr, which his grandfather Pacificador used to occupy.
In Bangar, La Union, the vice mayor used to be SK Federation president. Gary Pinzon was SK Federation president in 1993 to 1996, when his father George was Bangar mayor.
Gary was appointed Bangar councilor also during his father's 10-year stint in the municipal hall. He eventually inherited his father's post in 1998, serving three terms before bequeathing it to his sister Joy Meri. Gary settled for the vice mayoralty seat. His father, who started as barangay captain in the '70s, is now on his third term as mayor of Luna, La Union. -- Karen Tiongson-Mayrina, Allan Vallarta and Brenda Barrientos